Brute Speeder
Project Started in Summer 2019
I wanted to make a vehicle that looked both fast and bulky. Something that looked like it had weight. I had a design in mind for awhile. Using parts from the parts box, a pudding cup, the top of an air freshener, and my favorite candy packaging (choco-baby -large and small) I started to bring that idea into reality.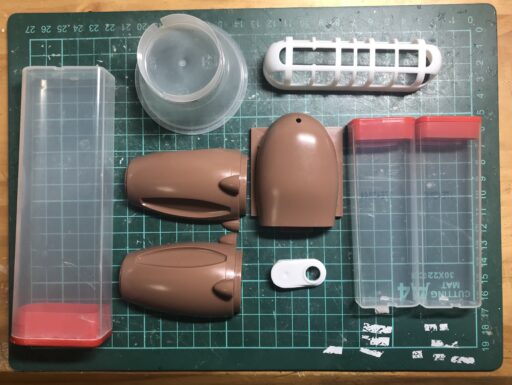 I made a grill from the air freshener top. Cut it to size and filled in the sides with putty. I made a small box from styrene that will fit inside and provide a recessed area for some detailing.
I glued the pudding cup to the end of the large candy package and a model part to the bottom. The height of the package and the pudding cup are about the same so that's good. I just needed to make a transition between the width of the package and the pudding cup. I have these nice rounded model parts that will work perfectly.
I wanted to make an area to attach the engine coverings. These would add some muscle and bulk to the speeder and make a nice transition between the candy package and pudding cup. I decided to make a small fender to cover this area. The fender would provide a bit of a setback for the engines. I like to add details into recessed areas. To me it makes sense they'd be there, Using a cutout I traced a line on the sides where I wanted the fender. I then used styrene as a base and added putty. I attached the grill and covered the candy packaging with putty. I do this because the plastic is hard to glue bits to or carve panel lines.
With that done it was time to attach the smaller candy packages to the sides. (These photos are from when I was test fitting the pieces.)
Next, it was adding details and bulk.
Here it is after primer and some sanding. I kind of like the different color tones and think that's how I'll paint it. A bit battered and well weathered. Like Boba Fett's Slave One.